Cadwalader Heights is a neighborhood of architectural diversity designed by famed landscape architect Frederick Law Olmsted and was built by Trenton's industrial elite at the turn of the last century. Now it is home to performing and visual artists, educators, architects, entrepreneurs, business and science professionals.
The House Tour is TODAY! 12-5pm

Get your Tickets at Ellarslie...
.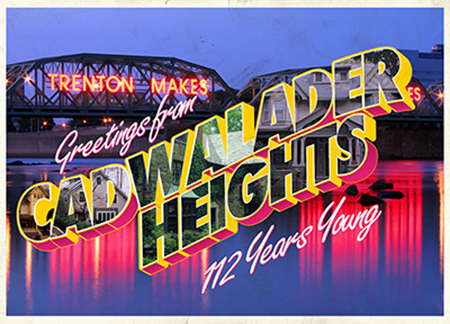 Cadwalader Heights 2019 House Tour
"Cadwalader Heights: 112 Years Young"
September 14, 2019
Noon to 5 p.m.
Take a Look! Read the Press Release
| | | |
| --- | --- | --- |
| Tickets are available the day of the tour at Ellarslie, the Trenton City Museum. If you have purchased your tickets in advance, your name will be on the Will Call list. For registration, just join us at Ellarslie, the Trenton City Museum, on Saturday, Sept. 14 to pick up your wristband(s) and a program. Registration opens at noon and the tour ends at 5 p.m. Look forward to seeing you there! | | |
Cadwalader Heights is a living architectural exhibit. Tudor, Georgian, Colonial Revival, and Craftsman style homes sit at the edge of nearby Cadwalader Park. Our 100+ year-old neighborhood is made up of a diverse group of people fostering a strong sense of community and mutual respect.
A History of Cadwalader Heights, written by architectural historian Glenn Modica, is a timeline of the people, planning, development, and building of Cadwalader Heights. We regret that the Cadwalader Heights book is out of stock at this time. Read an Excerpt.